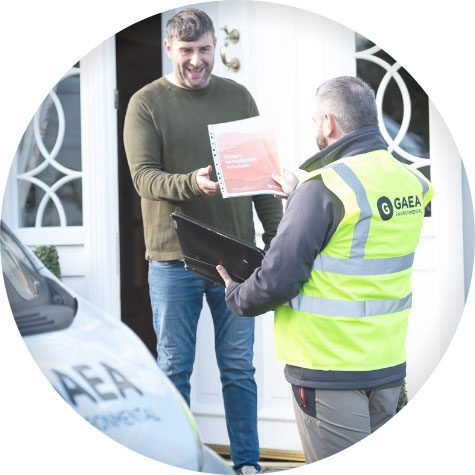 How Gaea Work
Caring for Our Customers
We understand that an oil spill can be an unsettling and difficult time for home owners. It is crucial to Gaea that we involve and communicate with the customer at all stages of the project, treating them with respect and empathy.
Effective project management is key to the way we work. We manage projects efficiently and professionally, progressing each at a good pace. Fast identification and response to issues, enabled by strong knowledge and experience of a wide range of techniques and technologies, allows us to react and progress promptly.
Clear Communication
Before we commence works on any site, we meet customers face-to-face in their home. They can get to know us, and discuss with us in plain English the work we'll be doing and how long it will take, giving them opportunity to ask us any questions.
Regular, honest and open communication throughout the project aims to minimise concerns, and our senior team members are always on hand to guide customers and answer queries.
Quality Customer Service
Our team will recommend a precise combination of solutions to remediate a site and no more; it's in everyone's interests that we return sites to customers as early as possible.
Gaea Oil Spill Experts delivers:
Strong customer service and client partnerships
Unparalleled technology and skills
A solutions driven approach, utilising those techniques which will bring efficient and effective results for each particular site.
A hands-on and proactive management team, led by director-level experience.
A respectful and trusted approach to the homes of the families we work with.
Find out more about our innovative solutions, developed by Gaea's own science, engineering and fabrication teams.
Trusted Remediation Experience
Our team enjoys a vast wealth of scientific knowledge and technical expertise in the sector, having led projects for other regional contractors since 1998 and establishing a reputation for reliable, effective and hands-on work. Experienced specialists ensure that every project is handled with professionalism and care at all times.